Fun for families and snowbirds!
Sugar Sands RV Resort in Gulf Shores, Alabama, features 82 sites including 5 stylish Tiny Homes for rent. All sites have full hookups, including 30/50 amp power, water/sewer, a picnic table, and WiFi!  Each site is a well maintained, spacious 22′ x 60′ concrete pad to accommodate even the largest RVs. You are sure to enjoy the beautiful, lush landscaping set among our coastal craftsman style buildings. Check out the gallery pages!
Amenities include: A bath house with separate men's and women's restrooms/showers, an expansive 5,000 square foot 'Rec House' complete with a full kitchen, TVs, fireplace and six roll-up doors, there's a resort-style pool, kid's playground, a new kids' splash pad located next to the pool area and fitness center, a firepit, shuffleboard, and plenty of planned activities!
Close to SO Many Gulf Shores Attractions!!!
OWA Family Entertainment – 8 minutes/5.7 miles

Foley Sports Complex – 20 minutes / 12 miles

OBA Sports Complex – 6 minutes /2.6 miles

Gulf Shores Sports Complex – 9 min/4.9 miles

The Wharf – 6 minutes /1.6 miles

Beach Express – 0.6 miles
OWA -Tropical Falls Indoor Water Park Opening June 27th, 2022 – 10 Minutes easy drive from our Beautiful RV and Tiny Homes Resort. You may just want to Shop or Eat at one of their many restaurants, you can even take in a show. There are so many things to do at OWA you will not be disappointed.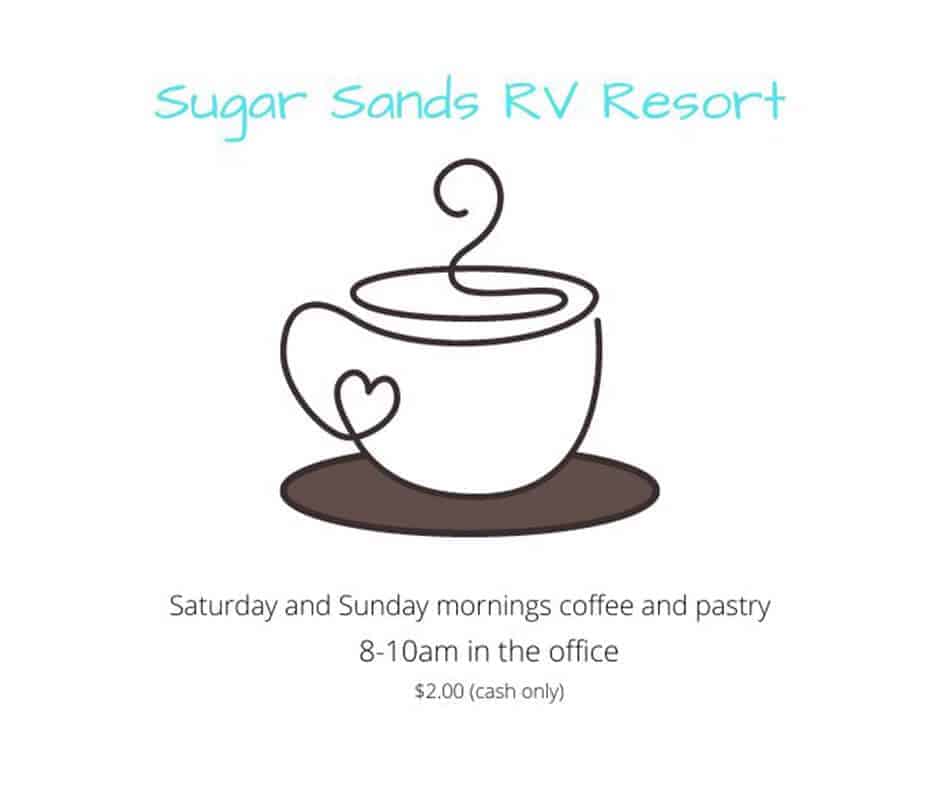 Some of the greatest artists perform at The Wharf in Orange Beach in the month of June 2022, only 5 minutes from Sugar Sands RV Resort.
Morgan Wallen – July 2 and 3
Keith Urban – August 6
Call 251-968-2223 and reserve your RV Spot today.
This is a fabulous RV Resort which is in a great location with easy access to Gulf Shores. It is really clean, very well maintained and very, very comfortable! The sites are all paved and have full services. The clubhouse is well appointed adjacent to a beautiful pool. The office staff are friendly and helpful. The resort is just a few years old. We will definitely return. It is one of the BEST resorts we have visited.
This was our first time staying at this campground. We will definitely be coming back. The staff was very friendly. The camping spots were very spacious, and the grounds were landscaped beautifully and well maintained. The location is perfect, literally minutes from The Wharf, and Foley which was very convenient.
We had been staying several days at another RV Resort in the area and wanted to stay a few extra days but they were booked up. Sugar Sands was able to accommodate us for several more days. What a beautiful pristine park. totally immaculate and obviously well managed. Wide selection of cable TV channels and crystal clear signal. the Wifi was reliable with plenty of bandwidth too. My new destination RV Resort for the Gulf Shores/Orange Beach area! (Summer 2020)
we had the BEST experience at this RV resort! The pictures don't do it justice. Very clean, spacious sites, and wonderful amenities! The wash house was perfect for showering and we always had a washer or dryer available when we needed it! The clubhouse was super cute and would have been a great place to hang out if we had more time. Our kids loved the pool. They have thought of every detail and we were super impressed! 5 stars from us! And if your a baseball family, this truly is the perfect spot between both complexes! Thank you for a wonderful stay. (Summer 2020)
We just got home from staying at Sugar Sands for a week and absolutely loved every second of it. The staff were very friendly and helpful, the grounds were extremely nice and clean and it was very convenient to everything. We will definitely be back. (June 30, 2018)
Very clean. Love the pool and play ground area for the kids. Very nice office staff – we changed our reservation to one extra day and had no problems. Late check in and had paperwork in the mailbox for our late check ins. Great experience!!! Only problem is the WiFi is horrible so the kids were able to have any down time to relax at night. We will be back for sure!!!
Great RV park. Pads are spacious and very clean. Laundry facilities are great. Quiet and relaxing place to stay. Everyone has been very friendly. Close to attractions but far enough for peace. Toll bridge access is awesome for quick trips to everything including the beach. Close proximity for access to Orange Beach Sportsplex. The only con I have found is Internet access is slow and fades in and out. Would stay here again when in the area and definitely recommend it to anyone!!!
This place is immaculate, beautifully landscaped, great in ground pool and large clubhouse. Staff is very friendly and accommodating. The bathhouses, restrooms and laundry facilities are awesome! Wish I could live here.
If I could rate it higher than a 5, oh gee whiz, I would! Where do I start , the best hosts, friendly, welcoming , helpful, funny , etc. etc. etc. !!!! Clean sites, bathrooms, showers, pool, clubhouse! So roomy and private sites ! We made arrangements to come back in May and June and cannot wait!♡♡♡♡
One of the best RV resorts ever!!! The amenities are amazing! The Clubhouse is out of this world! We will certainly be back to stay here and will recommend to all our friends!! (July 2018)
We stayed for 3 days on our way through the area. Very nice, large level concrete pad – very clean, friendly staff. We will come back again. (July 2018)
Nice clean resort. Landscaping beautiful. Quiet resort but we were on street side and was a little noisy. Pool area nice but small. Nice bathhouse and laundry area. We will definitely be back. Resort hosts very nice. WiFi and cable were good. (April 18, 2018)